From the monthly archives: April 2011
login bonus betfair casino promotions_bet-at-home esports_free login Free online football application
I quite enjoyed this video review of the movie Sunshine, which is a movie that I had very complicated feelings about when I first saw it. I think this new review does a good job of showing what it did right and what it did wrong, why it was a vivid viewing experience and also why it missed out on being a true classic. But I will let the clip do the rest of the talking for me. (I guess a spoiler alert is due if you haven't seen the movie.)
Paul Ryan's budget has become a major issue of contention in the special election for Chris Lee's former seat, and now a solidly Republican seat is looking competitive. Just more proof that Washington pundits don't really know anything about how the average person thinks about policy and politics, and don't really care to know.
They're gobbling up the recovery, at least at the moment. Hey, where are all the calls for this industry making record profits to sacrifice for the greater good? Where are Sullivan and Bobo on this one?
Steve Benen has a good catch about the incoming secretary's vehement opposition to torture. More and more, this seems like a good pick. Budget trimming experience, a seeming realist perspective, opposition to torture–what more can you ask for? And this might seem like petty partisanship, but he's a Democrat, which is important to me as a statement of showing that Democrats don't need to outsource all that war stuff to Republicans (though I did support retaining Bob Gates). I'm just glad we didn't get stuck with Hillary Clinton or one of the other big liberal hawks out there–that would have been catastrophic in my view.
He's outright leading the Republican field. Could still flame out I guess, but in a way it makes sense. Trump's candidacy can be seen as the culmination of all Republican politics of the past 20 years–the centrality of money and wealth preservation, insincere pandering to the Christian right, and voluminous racial dog whistles to the reactionary with a hint of reckless warmongering really represent the totality of the movement as of today. And, critically, just cynical as hell. The modern GOP and Trump really are made for each other.
An interesting observation here:
If you look at the crazy attacks on Clinton they always involved Clinton doing something sleazy—running drugs out of that airport in Arkansas, killing dozens of people in Arkansas (google "Clinton body count"), molesting staffers—whereas the crazy attacks on Obama usually involve Obama being a passive participant in something sleazy—the faking of his birth certificate by his family, the writing of his book by Bill Ayers.
But it's also true that the conspiracy theories about Obama are just so much more pathetic than the Clinton ones. I subscribe to few conspiracy theories but I am interested in what makes a good one, and how they work psychologically. The JFK conspiracy theory is a very good example of the genre. You have a case where the given story has a few glaring flaws, and where the stakes are (or at least were) potentially enormous. If the Russians were involved, wouldn't that have been an invitation to war? If the government was somehow in on it, then we clearly have something big and ugly on our hands. And so on. And, while most of the JFK conspiracy theories are easily dismissable–Oliver Stone's film is entertaining but far from convincing, or even coherent–the best ones leave you with that one shadow of doubt that even hardened skeptics can't quite dismiss. A bad example of a conspiracy theory is the whole thing about Shakespeare allegedly not writing his own plays (soon to be a movie by the director of Independence Day, which is not really my thing, though I'll see it if the whole thing is scored to Radiohead's Kid A like the trailer). This theory–usually presented as a desperate attempt by schoolteachers to show how totally controversial and crazy the world o' Shakespeare is–just doesn't cut it. It's low-impact, there are no stakes, and if it were true it would change nothing. They wouldn't even change the name on the books because you don't change a pen name, like there's no "Sam Clemens" section in your local Barnes & Noble. They'd just have to swap out the paintings of Shakespeare for some other guy, and that's it.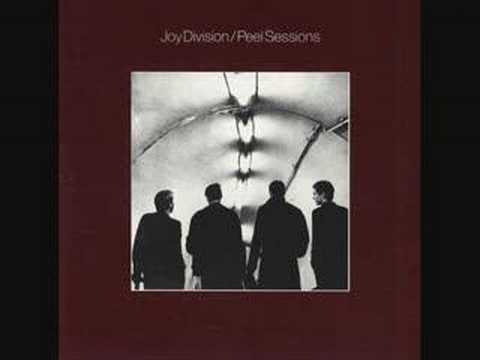 I like Joy Division just fine, though to be honest I'm more of a fan of their follow-up act, New Order. Joy Division are very much a parallel to Nirvana for me, only Nirvana's music somehow expressed Kurt Cobain's pain without making me live it, while Ian Curtis's gloom drives Joy Division almost completely, and you can't really escape it. It's debatable which one is more artistically impressive, though I do know which one I play more often. Anyway, I came across this alternative version of "Love Will Tear Us Apart" that is different from the usual one, but really great. The song itself is a favorite of mine, one of those rare songs that's simultaneously a perfect pop tune while also being a completely expressive work of art as well. We're in the category of something like "Waterloo Sunset" by The Kinks here. Anyway, here's the song: