From the monthly archives: June 2017
free login bet365 casino slots_free login 88 games controls_login bonus 188?bet
I find it kind of weird that Mitch McConnell is considered an evil genius because, really, it's not as though it never occurred to anybody to do what he did. He acted in a context in which escalating polarization and obstruction were already driving norm- and tradition-breaking that he just took to a near-maximal level. To a large degree he threw everything that kept the U.S. Government from being the obstruction palace it was designed to be into the wood-chipper, which is daring and all that, except that now a representative's job is to spin obstruction for the vast majority of the time rather than legislate, and all of Mitch's brilliant innovations in partisan maneuvering are inevitably being used against him, now. No persistent advantage was taken. He just set a new, unworkable baseline for Congressional behavior.
It occurs to me that I write a lot about Obama even now, but can I be forgiven for not wanting to write about Trump all day? It's so boring! And I think part of it is that I do feel Obama let me (and all of us) down in a couple of major ways–the debt ceiling standoff in 2011, Russia, the essentially reactive/passionless 2nd term–that liberals need to acknowledge but haven't, but the other part is that I feel that anything I can do to prevent the uncritical hero worship of him that the right has for Reagan is worth trying, even though I suspect it's hopeless at this point, more so than before thanks to Trump-initiated Obama nostalgia. Obama is beloved by liberals more than any other politician I've ever seen, certainly more than Bill Clinton, who despite generally being popular among Dems was always seen as all too human, and about whom even a lot of Democrats had some amount of ambivalence. Obama was from the start was seen by too many people who know better to be perfect. A hero. But not only is there no such thing as a hero (as opposed to heroic actions), having politicians as your heroes (regardless of your politics) is one of the worst possible things if you actually want them to deliver for you. It means you stop viewing them critically, and ignore the unsavory aspects and dispiriting compromises that all politicians have to celebrate the elements of them that tickle you. (And I'm not especially anti-politician! I don't hate them or think they're all crooks or anything. But they are, always, means to an end.)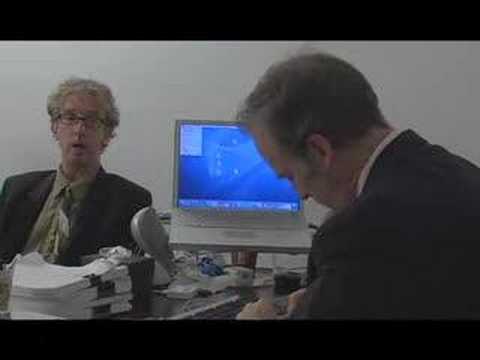 The addict as a character provides endless sources of comedic and dramatic potential. This is someone who can be both enormously sympathetic and monstrous, deeply vulnerable and emotionally stunted, tragic and pathetic, all at the same time. And in terms of famous addicts, few can compare to Andy Dick in terms of, well, all of these traits. During the 1990s, Dick appeared to be on the fast track, moving from the hip sketch comedy of?The Ben Stiller Show to cult stardom on?NewsRadio, in which he took a familiar type (the office weirdo) and invested him with fascinating, unexpected, and often hilarious layers. In a cast stocked with heavyweights he frequently stood out as a top performer. Unfortunately, what should have been the beginning of a successful career wound up being its peak, as the 2000s saw Dick become a constant punchline among comedians over his many public meltdowns. Inevitably, the question you'd have to ask is: how could such an obviously talented performer fall apart so suddenly and completely?
Read more on Beyond Obscurity: The Aesthetic Failure Of Andy Dick's Danny Roane: First Time Director…
This complaint always confused me. It's usually a complaint about The Kids Today, but it's not as though the all-powerful Childrens' Sports Union demanded that this practice start because it wasn't fair for only some to get them! It was adults who chose to start doing it. And honestly, it's much more defensible than just a couple of top performers getting one as sports are team efforts, particularly the ones young kids tend to play, so giving just the top kids trophies merely encourages members of a team to play selfishly in order to get more praise and recognition, which come to think of it might explain why a lot of older people think it's a grand thing. (And yes, I understand how sports are consumed and how there's a strong interest in pro sports to stand out individually because you get more money/fame/awards, but in the context of childrens' fucking soccer, it's nonsense to create "stars" out of top perfomers who are often just kids who develop physically a bit faster than the others. The sports "gods" of my elementary school days are now without exception burnouts who couldn't handle the pressure and adulation, such as they were, at a young age for something they never really earned.)
Let's say that Barack Obama wins the election to the House that in reality he lost in 2000, but the rest of his career goes exactly the same–wins the Senate seat in 2004, the White House in 2008. This means he goes to Washington as an anonymous backbencher in 2001 instead of as a celebrity senator in 2005. This also means that he sees with his own eyes such things as Republicans breaking whatever House rules they like in order to pass the bills they want to pass, Tom DeLay outright bribing people to pass Medicare Part D, the GOP using the Iraq War Resolution and the Homeland Security Act as partisan cudgels in order to win the midterms. Does Obama still go to the White House with the theme song from?The West Wing burning in his ears, believing that Republican politicians are decent, reasonable people you can do business with?
Well, at least one of them:
Susan Collins's final pretense at being in any meaningful way moderate.
Dean Heller's hopes at any chance of winning another term.
Rand Paul eating humble pie and voting for the bill over some pretty unequivocal objections to the underlying nature of the bill (they're a bit more specific and broadly philosophical and not just vague "concerns," like the rest of them) so there'd be a bit of a climbdown, and he'd look a fool).
My guess is that (1) is least likely. Collins is sort of like Dianne Feinstein in that she rarely sticks her neck out to the right when the lights are on her (though in all fairness Feinstein has been quite a bit less horrible this term, she even supported that resolution against Saudi arms sales which astonished me, symbolic or not). Collins likes being a highly visible (if largely useless) Washington moderate, fawned over by the press and No Labels jagoffs. And while there's no reason to believe that that crew would show her any less love if she voted for TrumpCare, I doubt Maine would send her back for another term. She'd be joined to Trump indelibly in 2020 (or in 2018 if she runs for governor) and Maine is I think the poorest blue state, lots of people who wouldn't take kindly to such a vote. And I don't think she wants to move onto the Joe Lieberman phase of her career yet. Collins also has strong leverage in that she?could win as an indy if she wanted, in fact, that would make her much stronger if she did. GOP needs her more than she needs it.
Read more on One Of These Will Have To Give To Pass Trumpcare…