Lev is a software developer and political observer/sometime activist in the East Bay region of California, with a great interest in the game of politics and many areas of policy. He started a personal blog in 2006 and loves the form for its author/reader interaction.
Author archive:
m88bet?mobile_login bonus bwin predictions for today_Welfare offer free £5 bet no deposit required 2019
I tend to believe women when they make accusations of misconduct against powerful men–simply to put yourself through all that scrutiny and judgment often tends to deter simple attention seekers. But even before reading this account, the accusations against Keith Ellison stank to me. I do not say this lightly. Frankly, I recognize this "I have a tape of it but I'm not going to release it" thing. It is a well known manipulation tactic. It suggests hard evidence that isn't being seen and probably doesn't even exist, which subtly manipulates you psychologically into assuming guilt simply by associating him with horrible acts. Just try to hear those words coming out of Donald Trump's mouth in your mind. You totally can, right? He does this all the time, not least of which with the "Ted Cruz's father was in on the JFK assassination" bit, or with Alicia Machado. Not that that's case closed: I can wholly understand why she wouldn't want to release the tape to the public, but not to law enforcement? Not to a close friend who can verify its contents? Because absent the tape, what you're left with is behavior that corresponds perfectly to somebody trying to keep the attention on themselves as long as possible by dangling a tape that nobody else can speak to. Such behavior isn't confronting power in any meaningful way: releasing the evidence would be a million times more devastating to Ellison. And this is all without reading Ellison's daughter's account of the woman, which corresponds just about perfectly to the sort of person who would make it up.
Probably about 95% of what I write here is not what I'd call optimistic in any way. However, if I didn't have any hope, I wouldn't be bothering to write. I will say that the main reason I'm hopeful we don't slide into full-on fascism is that that always requires a level of apathy that I don't see evidence of at this point. If the family separations had been met with a shrug then quite probably that would have been the beginning of it. But the backlash made them stop, at least to a large degree. Didn't end anything, the fight is still ongoing. But that's the point. The fight is still ongoing.
Brennan, if you remember, is pretty bad, and the idea of top secret clearances being some sort of permanent perk of having been once been in a high-level intelligence role has never made much sense to me (and no doubt has something to do with the actual deep state, not the imaginary Trumpian "deep state"). But with the system we have, yeah, this is all pretty unwarranted.
I read this stuff about Mohammed bin Salman and all I can think about is Nicolas II of Russia. It's difficult to know if the internal turmoil of Saudi Arabia is as intense as the internal turmoil of Imperial Russia in the mid-1890s because of how closed off it is, but MbS is exactly the same sort of man as old Nicky: pathologically aggressive, both abroad and with domestic forces; spoiled and inexperienced; ignorant and image-obsessed. Neither had any clue of what they were actually about and no objective other than expanding their own power. Not that he's that good at burnishing his image: he's making threats to Canada (Canada!) that he can't even back up, which just makes him look weak. The model here resembles less the lamentable but effective aggressive statecraft of older Russian Tsars or Napoleon (or Hitler, if we want to go there), and more the overcooked obsession with appearing tough that possessed Nicolas to enter his two disastrous wars of choice, one of which nearly killed off his empire and the other that actually did. Admittedly, Nicolas didn't have access to modern-day influence techniques: there were no American domestic think tanks for him to fund in exchange for lavish profiles from the "foreign policy community" of his time. The community did not then exist (and yet, somehow, the republic survived). Then again, Russia then didn't want as much from the United States as Saudi Arabia does now.
I'm talking threats to any future party fundraising support for any senator who votes aye, I'm talking a full-court press on the Senate floor and in the press, I'm talking an absolute tsunami of pressure on blue state Democrats that doesn't let up. Perhaps even actually attacking Sue Collins as the party hack that she is and finding a real opponent for her, though perhaps that's just too much to expect. Surely going easy on her will yield success, as it always has. It's true enough that politics is all about caution but you can't keep your powder dry forever. This is where you light it up. If they actually do just sort of shrug then there really is nothing to be done except to absolutely tear down the party structure and start anew. Whether they win or not, this is where you fight like real lives depend upon it, because they do. Taking a pass on Kavanaugh because you feel you can't win (any certainty with such narrow vote margins is foolish) wouldn't be pragmatism, it would be stupidity. People are paying attention. What's bigger than this?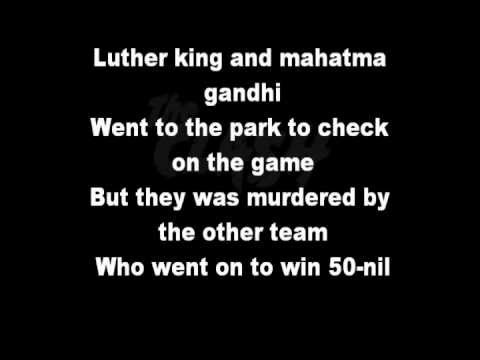 It's 1980. Your favorite band, The Clash, just put out their masterpiece last year,?London Calling. It would be a tremendous achievement alone simply for being a double-album that was free of useless bloat–something The motherfucking Beatles couldn't even manage to do–but not only that, the songs on it were legendary. The title track, then "Brand New Cadillac." "Clampdown." "Lost In The Supermarket." And, of course, "Train In Vain." Some of their best work, spanning all sorts of genres, and not a bum track on it. (Well, between you and me, "Revolution Rock" maybe goes on a bit too long, but let's not quibble.) The excitement is palpable. What would be their next move? You count down the days until it's out. And then that day is today. And of course you buy it,?Sandinista!, in all its three-LP glory. You play the first song. And…it's this:
Don't send any money to the DSCC. It might be spent to save this useless hump:
So far, national Democratic Party groups have not contributed to Mr. Menendez's efforts, though that may change. Mr. Menendez said he might get help from the Democratic Senatorial Campaign Committee, which he once led. The New Jersey Democratic State Committee is raising funds for Mr. Menendez, a move that underscores that the race is becoming more contested than expected.
Surely this sort of thing is better suited to fucking NextDoor posts than major media publications, right? And yet…
Oh, incidentally, nobody seems to be writing about how Sen. Michael Bennet's career is totally over. But it's true. Maybe it gets salvaged if Kavanaugh is somehow stopped. But Bennet voted for Gorsuch, apparently for the sole, stupid reason that they're from the same state. I am not fucking kidding.?Not all that different from "Brett Kavanaugh is a good babysitter" in the final analysis, though actually it's worse because at least "I know his character personally" is more relevant than "we grew up in the same square on the map." What a complete and total idiot. No wonder his brother is the?New York Times doofus who thought that Bret Stephens and Bari Weiss were essential voices to hear. Now, to be sure, voting for Gorsuch or Kavanaugh isn't going to hurt a Joe Manchin in an ultra-red state like West Virginia. But Bennet represents Colorado. Voting for one of the two Trump SCOTUS picks that savaged?Roe is going to kill him in a Democratic primary, if he even bothers. Unfortunately that's going to be in 2022, but it doesn't matter. He's already finished.
Read more on As A Black Transgendered Communist, I Think Brett Kavanaugh Should Be Put On SCOTUS Because He Once Gave Me A Quarter For The Parking Meter…