Currently viewing the tag: "Mitt Romney"
Welfare offer william hill casino club_login bonus free bonus slots_Welfare offer Reliable football gambling software
Somehow I'd forgotten that we'll have Mittens to kick around again after the midterms. It's going to be fun to have a Republican who lies almost as much as Trump, but who has respect from the Very Important People, backing Trump's agenda to the hilt. Though admittedly Trump seems to like to humiliate the guy, so we have that to look forward to at least.
Not that Trump isn't a horrible person, but it seems fairly obvious that he has a personality disorder (my guess is narcissistic personality disorder with a bit of histrionic and antisocial–it's common to have more than one at once as they all share many characteristics). These people are scary, and rightfully so, but it isn't entirely within their control and there is no cure for it. Mitt chooses to be a lying, heartless asshole. He could choose to be somebody else, somebody good–it's not like he's beatable in Utah going under any ideological profile–but he won't. It's totally his choice.
Read more on Mitt Romney Is A Worse Person Than Donald Trump…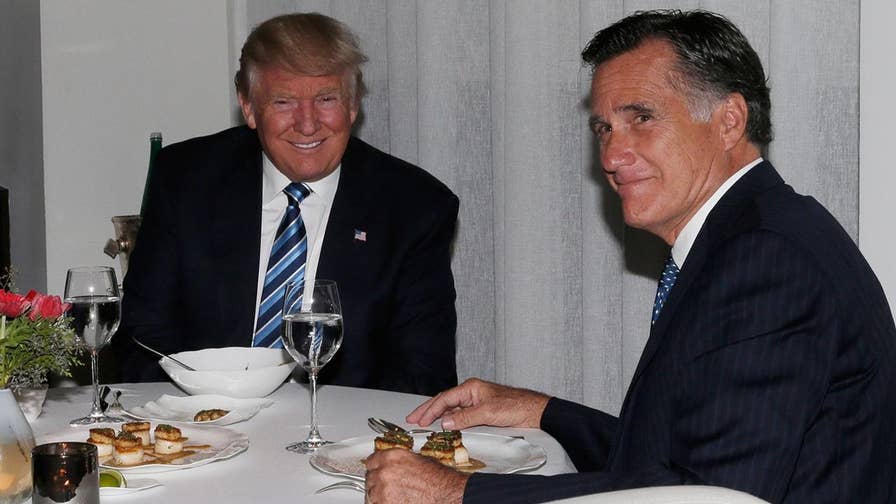 The countdown to Romney '24 has begun. For those who think I'm joking, consider this: Romney's big anti-Trump speech from nearly two years ago still dominates coverage of the man, even though he's accepted Trump's endorsement and has made it repeatedly clear he does not want to rock the boat. The institutional GOP apparently believes this,?as well they should. It makes a whole lot of sense, actually. The GOP has a huge medium-term problem in that virtually all of their top prospects are fully on board with Trump and this is not going to be an asset if Trump loses in/quits before 2020. How is Marco Rubio going to go before a 2024 general election electorate having been a Trump lickspittle? Certainly, it may well be that by 2024 Trump will be as forgotten as Bush was by 2012, but I have my doubts. Bush was worse than Trump has been in much the same ways, but people ultimately hated Bush because of his ideology, competence level, and the effects of his policies. They hate Trump because of his character and just who he is. This is more likely to stick after he's gone. The emotional component of the opposition to Trump is stronger than it was to Bush, and such emotional baggage is less easy to dismiss as old business. This is why Bush has (irritatingly) bounced back in the polls. With him it was, ultimately, just business. Trump, however, won't bounce back. And this is key. Because Romney's post-2012 political identity is shaped by one fucking speech opposing Trump, he will be able to assemble a record of quietly voting for just about everything Trump supports with the occasional showboaty/symbolic dissent. He'll be on Meet The Press every week hyperventilating about the deficit, of course. See, running for the Senate this late isn't any indicator of a long future Senatorial career. He'll be dead long before he can accrue any real seniority. And the guy has only ever held or shown interest in executive positions, his suicide mission/name building run against Ted Kennedy in 1994 notwithstanding. But in the Trump era he can become a "respectable" Republican figure who will talk a big game and do nothing, and because of how he's seen he may well be able to avoid the Trump taint that is going to be a major problem for the Republicans after Trump and Pence depart the scene, not out of innocence but out of distraction. Given that he's already effectively abandoned any serious #NeverTrump bona fides, is there any other plausible motivation for his doing this? (It is possible, as I suggested before, that he truly does hate spending time with his own family. Best I can do.)
One more thought:
Since we have to do this in the age of "every Republican was good before Trump," I never really liked Mitt Romney, and still don't. The guy picked Paul Ryan for his VP and I always saw them as birds of a feather, phony "good guys" who were little more than clean-cut cut-outs for lots of bad extremists. He always seemed like an aloof dork to me personally. Professionally, he embodied the most destructive elements of capitalism. Politically, he'd just say whatever was needed in order to get power. Sometimes people do change their minds on things, even on abortion and stuff like that. But that was never really credible with Mitt, who discovered his fervent pro-life beliefs two years after discovering his fervent pro-choice beliefs, which occurred a few years after having profound pro-life beliefs, etc., all of which seemed to coincide magically with his own political self-interest. There simply isn't anything there, and his campaign for president was largely just a collection of outright lies and inane talking points, as soulless and message-free as any awful Democratic presidential campaign in recent memory. It's too much to blame the man for creating the post-truth world that brought Trump forth, though he certainly didn't challenge it when he had the chance and possibly helped advance it a little. Perhaps Trump shook loose some latent principle in the man but I doubt it. I'd love to be wrong! He probably actually could win the Utah Senate seat as a legitimate Republican resister of Trump. But I expect him to be talking about how "the electorate factored [insert horrible thing here] in when they voted for Trump" within a few months. Honestly, even though it seems like a joke given his age, I wouldn't be super-shocked if he wasn't done running for president. It's easy enough to see the angles on that one.
That's really all I got. It's not like being a senator isn't a good gig, it is! But why go through all the campaigning as a man in your seventies when you'll never build up appreciable seniority there? And do Republicans really not have any promising rising stars in Utah that they'd want to promote to the seat instead of giving it away as an emeritus gig? Really? (Note: this is all also applicable to Ohio Democrats running Ted Strickland last cycle.) The worst thing is how the media will cover this as the #Resistance, which it is, I suppose, in that there will be precious little actual resistance: Romney will cash in the credibility of having opposed Trump while supporting just about everything he wants.